Francis Brunn
---
I find that I am fascinated by controlling one ball. It sounds like nothing, but it is quite difficult to do properly.
---
Trying to describe Brunn's act is like trying to describe the flight of a swallow. He juggled three sticks very briefly for an opening with incredible speed. The last stick was thrown high, and not wanting to wait for it to descend, he leaped and snatched it from the air. He followed with inflated ball bouncing on head. But they were not the calculated, rhythmic bounces of the less imaginative juggler. He exerted so much control, that he could bounce the ball erratically, at an angle, and sometimes leaping to strike it with his head at the most unexpected off-beat moment.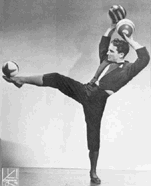 From the nape of his neck the ball was made to roll down his back. Then he quickly turned around to strike it with his knee, and down to be caught with his toe. Fast toe to toe catches, not kicking, as in soccer, but real catches in the true Japanese tradition. Not for an instant did his image digress from the leaping, dancing gymnast. He interrupted tricks with an occasional somersault, only to return to balls that danced and sticks that twirled.
Excellent hand balance with ball clipped between his feet. Now he bends his knees so as to bring the ball down to mouth-held stick, where it balances. Then he resumes his upright position.
One incredible move was to make ball travel from toe to highest part of the body. This was accomplished by raising his leg and making the necessary motions with his torso. This move is one of the most amazing things I've seen, the ball apparently moving up against the forces of gravity. He finished his act with hoop tossing while at the same time balancing sticks and balls on his forehead, and spinning a hoop on his leg.
Brunn, later in his career, adopted the style of a Spanish dancer. An act which was already sensational, with the added fire and flavor of the Iberian-Moorish people, became almost electrifying!
---
Here is an interview with Brunn, published in the May 1981 edition of the IJA Newsletter. Gene Jones, then IJA President, asked about his life and his approach to juggling.
Here is another interview, this time from the Spring 1986 edition of Juggler's World.
More recently, this interview with Brunn and Natalie Enterline was published in the Summer 1996 edition of Kaskade.
Here is an MPEG movie of Brunn kicking a ball behind his back to land on top of another ball spinning on his finger and here is one of his trademark combination trick. See the Great Jugglers of the Past section of the JIS Movie Theater for full descriptions.
---
References
by Francisco Alvarez, Albuquerque 1984.
---
The Juggling Hall of Fame is maintained for the Juggling Information Service by Andrew Conway. Comments and suggestions to fame@juggling.org. Thanks to Mary Wilkins for help with research.

© 1996 Juggling Information Service. All Rights Reserved.