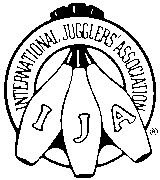 This is a repository of information about the world's oldest organization of jugglers.
---
What is the IJA, and how do I join?

Online archive of the IJA's quarterly publication.

Information about the various IJA competitions and championships.

Transcripts of IRC broadcasts of events at IJA Festivals.

What is an IJA affiliate group, and how do I create one?

The various awards presented by the IJA, and their recipients.

Current IJA officers, and how to contact them.

All of the IJA presidents and board chairmen, since the beginning.

All of the editors of the the IJA Newsletter and Juggler's World magazine, since the beginning.

The complete list people in the IJA Life Membership program.

Convention sites and chairmen of all IJA conventions and festivals since the initial organizational meeting in 1947.
---
International Jugglers Association / Juggling Information Service / jis@juggling.org © 1996 Juggling Information Service. All Rights Reserved.