Bobby May
Or He May Not
1907-1981
---
I juggled eight balls at one time which is a highly technical thing. It takes a lot of practice.
---
Bobby May, whose real name was Ludwig Mayer, was born in 1907. He is considered by many to have been America's finest juggler. He made his first professional appearance in 1922, at the age of 15. Three years later he and a partner started working on the RKO Keith Orpheum Vaudeville circuit as "Joe Cody and Bro. - Comedy Mad Hatters". They did a straw hat and double juggling act in which May played the straight man. In 1928 May started working as a solo juggler again. In 1930 he toured Europe for the first time, playing at the London Palladium, as well as theaters in Paris and Switzerland before returning to the US. He played in circuses, night clubs and skating shows as well as variety theaters. During the second World Way he entertained US troops in East Coast camps, then returned to a contract with "The Skating Vanities", where he performed until 1948. Many years of ice shows in the US followed.

Though he could juggle up to eight balls, he was at his best with three and five. His routines contained many bounce moves, particularly those in which spin was put on the ball to make it bounce back to him unexpectedly. His four club routine and his stick, ball and hat routine were also outstanding. One of his tricks involved throwing a cigarette behind his back and catching it in his lips. The cigarette was followed by a lighted match, also caught in his lips, which he used to light the cigarette.
---
Bobby never liked to bill himself as a juggler, so whenever he had control he would bill himself "Bobby May" and then very small underneath "Or He May Not", so this way he could mislead the audience. Then he'd open his act by playing the harmonica, and then break into his juggling act.
---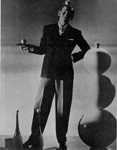 Bobby May - did not have a pretentious theatrical manner. He often made his entrance wearing a beret and playing a harmonica. Resembling the boy next door and radiating a hint of mischief, he was casual, indifferent, lovable. But when he began to juggle - the roof came down! It was clear that his audience took his personality lightly, but his juggling seriously. Bobby May exerted so much control over lacrosse balls and clubs that it would take the average juggler two lifetimes to come close to his achievements. His three club routine included the more difficult moves, which he did with great vitality. He also did ball bouncing as he stood on his head. His closing routine easily compares with the best of Rapoli and Kara. Wearing a hat, Bobby juggled five balls in a variety of patterns, the shower being the last. Now the balls were allowed to systematically drop on the floor one after the other. As each ball bounced, it was scooped up with the hat except the last which was allowed to bounce on the forehead once, caught in back of neck, and rolled down the back into waiting hat which he held between his legs. From this position, he did a forward acrobatic roll, up on his feet, and triumphantly walked off stage.

Bobby May died on November 7,1981. During his memorable career he was highly respected by agents and fellow performers alike, and was one of the giants of his day. He was often the headliner in a show. A privilege rarely enjoyed by most jugglers.
---
Here is May's obituary, published in the January 1982 edition of Juggler's World. It contains a tribute to May and a detailed chronology of his career, as well as reminiscences from Fred W. Mills and Alan Howard.

Here is a brief description of May's act in 1945, published in the Summer 1987 edition of Juggler's World.

Here is an interview with Dick Franco in which he talks about the influence of Bobby May on his career. It's from the Summer 1988 edition of Juggler's World.

Here is an MPEG movie of May with four clubs and here is one of him with five balls. See the Great Jugglers of the Past section of the JIS Movie Theater for full descriptions.
---
References
by Francisco Alvarez, Albuquerque 1984.
Short video biography of May, including movies of his performances. Available from Brian Dub&eacute. Here is a review of this video published in the Summer 1988 edition of Juggler's World
---
The Juggling Hall of Fame is maintained for the Juggling Information Service by Andrew Conway. Comments and suggestions to fame@juggling.org. Thanks to Mary Wilkins for help with research.

© 1996 Juggling Information Service. All Rights Reserved.