Duane Starcher
-- juggling 5 balls
LINKS RELATING TO MY VARIOUS INTERESTS
JUGGLING
Follow this link for information on JUGGLING AND RELATED INTERESTS.
WORK AND BACKGROUND

To learn a bit more about my WORK AND BACKGROUNDfollow this link.
Click on the picture to see Aaron McKim

and I passing eight clubs.
JUGGLERS IN BRITISH COLUMBIA

If you plan to visit British Columbia, check my list of JUGGLERS IN BRITISH COLUMBIA. Maybe you can find someone to play with while you are here.
STEREO PHOTOGRAPHY
Find out more about STEREO PHOTOGRAPHY and follow links to other three- dimensional images on the web.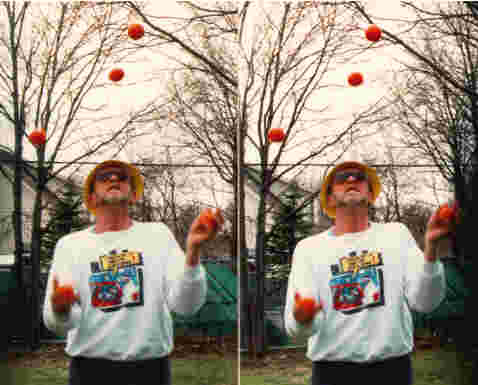 This is an old stereo picture of me juggling five balls in the backyard in St. John's, Newfoundland.