Massimiliano Truzzi
1903 - 1974
---
I do six plates and bounce the ball on forehead after ten years of practice and people just say, 'It's good.'
---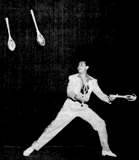 Massimiliano Truzzi was born in Lodz, Poland on December 4, 1903 to a famous Russian Italian Circus family. He learned to juggle from Enrico Rastelli, who worked for Circus Truzzi in Russia. During the Russian Revolution the Truzzis fled to Constantinople and lost most of their wealth, but continued working as circus performers. Truzzi developed a flamboyant and highly technical thirty five minute long act which involved juggling up to nine balls, five clubs, six plates with a head bounce and complex multiple balances. His extravagant costumes and dramatic gestures were most impressive, even in the large expanse of a circus ring. His trademark routines included juggling and balancing spherical glass 'goldfish bowls', and ball and mouthstick work using a knife for a mouthstick!

In 1940 he came to the United States to working for Ringling Brothers., Barnum and Bailey. He is said to have been the first performer to do his entire act (which was then twenty minutes long) solo in the center ring for RBB&B at Madison Square Garden. He continued to perform until 1960, when he retired from show business to manage a hotel in Sarasota, Florida. He died in 1974, of a heart attack.
---
From the "Sarasota Herald Tribune", November 2, 1974
A self-educated man, he was a lifelong student of history and philosophy. He once said that "life requires a human being to understand both philosophy and juggling, because it takes a little of both to get along in the world today."

High-spirited and ebullient, he maintained a wide circle of friendships that included showfolk, theatrical and musical performers, writers, artists, college professors and newspapermen. He played a remarkable game of chess.
---
A tall man with an impressive personality, Truzzi superbly filled the circus ring with overdramatic gestures and opulent-looking props. Truzzi was a stick-and-ball juggler but seemed to have excelled best with tossing tricks. Intricate ball work was kept at a minimum. His mouth stick was shaped like a knife, and he preferred to juggle huge sticks. Like Trixie, he could juggle six plates with a ball bouncing on his head.

Truzzi's ability to fill a large circus ring with opulence and grandeur was his best recommendation. The Great Massimiliano Truzzi could do this better than anyone else.
---
Here is a detailed description of Truzzi's act, written by his son, Dr. Marcello Truzzi.

This newspaper article by Michael Valenti was written soon after Truzzi first arrived in America.

Here's an article from Juggler's Bulletin by Roger Montandon, written after he met Truzzi in 1944.

Here's an extract from "The American Circus" which describes part of Truzzi's act in 1942, including his comic interactions with the clown Emmett Kelly.

In Marian Murray's book "Children of the Big Top" there is a chapter in which Marcello Truzzi teaches a friend to juggle. Here's an extract in which he talks about his father Massimiliano and the rest of his family.

In 1969 Truzzi was interviewed by his son Marcello. He talked about Rastelli and about his own juggling career. Listen to that interview in Real Audio.
---
References
by Francisco Alvarez, Albuquerque 1984. Now out of print.
by John Culhane, New York: Henry Holt and Company, 1990. This is one of the few circus books that one can trust to give accurate information backed by formal references.
---
The Juggling Hall of Fame is maintained for the Juggling Information Service by Andrew Conway. Comments and suggestions to fame@juggling.org. Thanks to Marcello Truzzi, Mark Cosdon and Mary Wilkins for help with research.

© 1996 Juggling Information Service. All Rights Reserved.