W. C. Fields
1880?-1946
---
Comedy is a serious business...
---
Though he is better known these days for his movie performances, in his youth W. C. Fields was the most successful comedy juggler of his generation. He was born William Claude Dukenfield on April 9th 1879, and again on January 29th 1880 (according to other sources). He claims to have first worked professionally as a juggler at the age of 15, in Pottsville, PA, and elsewhere at the age of 11 in Norristown, PA.

Be that as it may, it is clear that by 1899 he was working at Fortesque's Pier in Atlantic City, NJ. Among his other duties was building a crowd by pretending to drown in the ocean and being rescued by one of the other performers. It was here that he met his future wife, Hattie, who assisted him in his act until the birth of their son in 1904.

Fields was billed as 'The Eccentric Juggler'. On stage he dressed as a tramp, with a fake beard and exaggerated eye make up, while Hattie wore a tuxedo with tight satin pants. He did not speak during his act, but did a lot of physical and character comedy. He might drop deliberately and blame it on his assistant, or fake behind the back throws by juggling two in one hand and waving a third ball behind his back with the other hand.

He worked with balls, cigar boxes, hats and a cane. Later he developed an elaborate routine using a gimmicked pool table, in which he would bounce balls from the table to a hip pocket via bounces on various parts of his body. However, it is in the field of comedy that he made his greatest contribution to the art of juggling, making character more important than tricks (though his tricks were not easy), and turning his juggling act into a true performance.
---
Visit the W.C. Fields Home Page maintained by Kevin Rayburn.

Here are some recollections of Fields by H. M. Lorette, a juggler who grew up with him. They were first published in the May 1957 edition of the IJA Newsletter.

Here is Fields own description of the same period, extracted from an article called "From Boy Juggler to Star Comedian" published in Theatre Magazine in October 1928. The article shows Fields' life long fascination with his own salary, and his happy disregard for mere factual accuracy.

Here is a review of Fields' first appearance in London from Black and White Budget, March 16th, 1901, including pictures of several of his tricks.

This is an extract from a review of Fields' appearance in the musical comedy "Ballyhoo", which was published in Nation in January 1931. It's a glowing description of how Fields used juggling to present his stage character.

Here is an article on Fields as a juggler by Rich Chamberlin, published in the May 1983 edition of Juggler's World. It includes a biography and descriptions of some of his tricks, and is illustrated with a self-portrait by Fields.

The creation of the W. C. Fields stamp (pictured above) is described in this article from the IJA Newsletter, March 1981.

This is an article on Fields' attitude to stealing material from other performers, including an ad he placed in Variety to attempt to protect a bit of his 'business'.

Here is an illustration of some of the tricks in Fields' pool table routine.

Here's the W. C. Fields Fan Club home page. You can join by sending $15 to W. C Fields Fan Club, PO Box 506, Stratford, NJ 08084-0506.
---
References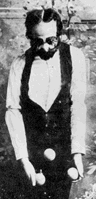 Commentary by Ronald J. Fields, Prentice-Hall Inc., Englewood Cliffs, NJ, 1973. ISBN 0-13-944462-9. This is an invaluable work for anyone interested in Fields' career. Fields' grandson has collected together his letters, scripts, reviews and newspaper articles. Of particular interest to jugglers are a number of wonderful old photographs of Fields juggling, such as the one shown here.
This movie, made in 1934, features a five minute segment of Fields juggling balls, a cane and cigar boxes.
Sadly the pool stunts in this move are done by trick photography. However Fields does briefly juggle four balls.
Fields' authenic pool table routine was preserved in this 1934 Paramount feature, which is available on video.
---
The Juggling Hall of Fame is maintained for the Juggling Information Service by Andrew Conway. Comments and suggestions to fame@juggling.org. Thanks to Mark Cosdon and Kevin Rayburn for help with research, and special thanks to Mary Wilkins for loaning items from her collection of juggling memorabilia..

© 1996 Juggling Information Service. All Rights Reserved.