University of Kent at Canterbury Juggling Society

Background
The University of Kent at Canterbury is situated on the South-East coast of England and is approximatley 10 miles from the port of Dover and about 40 miles from London. The University itself is based on a college system and has areas of excellence in a number of subjects including Computer Science.
To give you an idea of the place here are one or two pictures of campus showing the Library and senate buildings and the entrance to one of the colleges Darwin.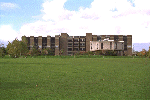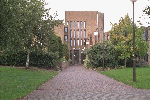 ---
The Club Itself
This was formed in 1993 after intense pressure from me and a few friends to get our good old juggling mate Matt to start a club.

I am now the president of the club and seem to be the general dogsbody as well. I teach, organise trips, and arrange our forthcoming convention with help from Charlotte etc. Link to convention to follow.

We meet every Wednesday night in Rutherford College on campus from 7-9 and apart from a two pound membership fee for the academic year everything else is free.

We have our own props which we can lend to you if you want to learn so dont worry about having to splash out on new stuff, use ours.
---
Other Aspects of the Club
So far we have had a visit to the Chinese State Circus in Blackheath. This does have a tendancy to induce raging homicide in less accomplished jugglers for some reason. I think its the 'You cant do that' phrase which releases the adrenalin.

We also went to see the Moscow State Circus, which was quite good. I loved the UV boomerrangs and the russian beam stuff. Clowns were good as well.

We also organise events for charity down in Canterbury ie. raising funds for the Childrens Society etc.

Finally for some reason the music festival invites us to get drunk and juggle there every year. Not that I am complaining. After all it makes for some incredible photo opportunities.

---
Many thanks to Barry Bakalor and HaL Computer Systems for providing the space for this home page, as part of the Juggling Information Service.
---
Juggling Society e-mail jugsoc@ukc.ac.uk Date last modified: 21st Jan 1996