The Yerushalayim Yugglers Jerusalem Juggling Club
---
last updated: July, 2012
---
Welcome to the Yerushalayim Yugglers Home Page. In it you can find information about:
---
About the Yerushalayim Yugglers
The "Yerushalayim Yugglers" is an informal gathering of all levels of juggler from non-juggler to very advanced. It really is a big open room for us to meet, help each other, learn, practice, and show off. There are many people willing to help others with not just basic juggling, but advanced tricks, as well as other circus skills and props (juggling clubs, juggling rings, other juggling props, contact juggling, yo-yo, diabolo, devil stick, spinning plate, etc.).

A few members don't really like the name Yerushalayim Yugglers and we had some other possibilities (I'm sure glad they don't know how to program html!): the Passover Jugglers or the Non-Prophet Juggling Club, among others.

Meetings are sporadically held so Email Scott or call him at 054-7845999 for more information.

Click here to find out more about juggling in Israel.
---
Activities
Some of the recent projects that the Yerushalayim Yugglers have been working on are:
Jewish Jugglers Internet Site: a site to provide a resource for Jewish jugglers to learn more about their heritage and how it may be incorporated into juggling and how juggling can be incorporated into Jewish aspects of life.
---
The Members of the Club
Some of our coolest members have web pages:
---
Picture Gallery
These are just a few pictures of Scott Seltzer that we had in stock. We hope to include other members' pictures shortly.

5 clubs during Israeli army basic training :

Click here or on the image for the full picture!
7 balls:

Click here or on the image for the full picture!
Torches in a toga:

Click here or on the image for the full picture!
Here's one of Yaakov Goodman at Scott's wedding:

And this is Raphael Harris at Scott's wedding:

This is Lev Miles practicing at home: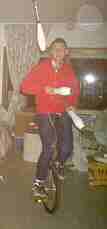 ---
Yerushalayim Yugglers Home Page / designed by Scott Seltzer / Juggling Information Service