Clive's Home Page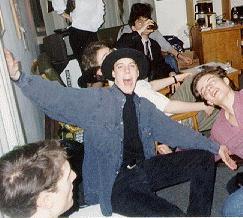 I do apologise for the awful photo by the way, it was at a party in Darien's room about a year ago. There will be a decent one of me juggling on a rooftop in india as soon as we get a scanner over here. If you click on the pic you get an Excellent picture, but it's very long!
---
Well this page is under construction at the moment, so expect a few more photoes and links when I get organised.
---
I'm a second year student at Cambridge University (Trinity College) doing Maths. I spend a lot of time juggling, although I'm not really that good, but I can do just about any trick with three balls, and I have just invested in some fire clubs so I'm sure it won't be long until I am mastering a few tricks there, they got tested out for the first time when I was drunk a few nights ago. I am also reasonable with a Diabolo (only the one as yet - I'll keep you posted), and getting to grips with devil stix. I haven't got a unicycle yet but it's on my shopping list for when this poor student can afford it!
My juggling is all self taught although I see tricks by my brother and usually try them out myself. He also juggles but mainly uses diabolo and devil stix.
Other than that I am a canoe instructor (currently looking for a summer job by the way if anyone knows of anything in that area) and do a bit of Rodeo and Surfing with friends at home on the south coast (Emsworth, near Portsmouth)
Now for a serious note: Cambridges most wanted!
---
A few Links to keep you busy...
Home Pages
Homepages for people
Online Magazines
Link Pages
Red Dwarf
Terry Pratchett
Queen
REM
Pictures
3D Pictures
MPEG's
Wierd
Humour
Lycos
You can see what I have to endure in my lectures - here's the notes for the Optimization IBcourse

Arts Cinema Listings
---
Address & Email
Clive Ponsonby
Cell block H
Burrells Field
Trinity College
Cambridge, CB3 9DH
ENGLAND

cwep2@hermes.cam.ac.uk
---
Home Page for Clive Ponsonby / Juggling Information Service / cwep2@hermes.cam.ac.uk