---
Cassie and Coolhand met on Compu$erve's CB Simulator in early 1995. Since CI$ charges were so high (can you hear us, Compu$pend?) we emigrated to the net, and can now sometimes be found on the undernet on IRC, in a channel called #ark - although rarely both at the same time, since we only have one phone line ;)

The #ark channel belongs to arkangel - arkangel's home page is really cool! Another of our friends on #ark has gone by the nicks "Squidge" and "Typo". Check out typo's playground - if you dare!
---
Colin was born at a very early age in London, England, and has spent some time in various parts of the world. He has made several attempts at earning an honest living, and is now lost somewhere in the internet.

At the advanced age of 29 Colin decided to go bak to skool, and got an honours degree in Cybernetics (oh all right then, Computer Science :) at the Department of Science, Portsmouth University. One of the programs he has written is a (an?) useful utility (well, he thinks so, anyway) called "Colin's Anniversary Reminder" which can be used to remind you of important dates throughout the year. Mail me and I'll send you a copy.

The picture of me was taken by nutter, another #ark-lurker, at KingCon in Milton Keynes. (Hi Lisa!) It shows me juggling (NOT playing with myself, Nigel!).

---
Wendy is shy, and won't allow me to put her picture on here. Until recently she worked at William Watts Ltd in Sutton in Ashfield, Notts. Now she and Colin live and work in Chesterfield.

Chesterfield is famous for the Crooked Spire of the St. Mary's and All Saints church. The spire is over 9 foot out of true, and its herringbone pattern creates the optical illusion that it has sixteen sides, not the eight it actually has. Legend has it that the spire became twisted when the Devil visited, and was amazed to find that a virgin was being married in the church. Legend also has it that the spire will not straighten until another virgin is married there... :)

Talk of virgins reminds me of Wendy... whose flapjacks are renowned throughout the land. Mainly because they are good for road repairs, and clouting people over the head with. Strangely enough, they taste quite good too. Wendy can often be found on IRC or CompuServe's CB, chatting away merrily to all and sundry. Yes, she's an addict too. Please talk to her; she's always complaining that she never gets enough e-mail!

---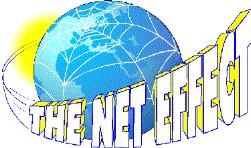 When Coolhand and Cassie got together, one result was The NET Effect, an internet consultancy business. Obviously you are already on line (since you're reading this!), but if you don't yet have your own web page, we can set you up with one at competitive rates. More than this, we can earn you money! Part of our service is to set up Internet accounts for individuals or businesses who don't have the time or expertise to do it themselves. We pay a finder's fee for all leads which result in a sale. So if you need our services, or you know of someone else who might, please let us know!

---
Page Review
---
Colin Reynolds & Wendy Jervis
The NET Effect PO Box 78 CHESTERFIELD UK S43 1YZ
Tel: +44 (0)1246 23 22 20
e-mail: tne@bespin.demon.co.uk

---
This page was written with the help of the HotDog®Web Editor by Sausage Software.
---
Ver: 21Dec95