More Wood
Ok, here are some scans of the photos from the More Wood camping trip to the Indiana Dunes. These pictures aren't really out of focus, the people are.

In this first picture we see the a little of the majestic sweep of the blue canopy, and the mark of a successful party - Kay falling asleep.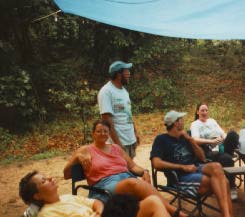 Meanwhile the cooks were having fun..


and Steve was demonstrating how to drink a candle.


Once again I am staggered by the sartorial elegance I displayed in that last photo. Here we have a photo of somebody taking a video of somebody taking a photograph... Focus, everyone.


Now here's a picture of people looking at pictures. (Recursion: See 'recursion')


And of course, the group photo...