Cascade Jugglers
Cascade Jugglers is the Seattle-area IJA affiliate club, named for the mountain range to the east. There are no dues or formal structures, and jugglers of all ability-levels are welcome.
---
Meetings
Cascade Jugglers meet Saturdays (weather permitting) from roughly 3-6pm on the lawn by the International Fountain at Seattle Center. If you're coming from out of town, just find our (in)famous local landmark--the Space Needle--and head north to the main lawn in the middle of the Center. (When it's warm, but rainy, head for the NW Court entrance by QFC--a covered outdoor space.)

Winter juggling has been erratic for the past couple years. It's best to call or email for info. Upcoming indoor juggling will take place at the Seattle Mime Theater, on the 4th floor of the Odd Fellows Hall on Capitol Hill. The address is 915 East Pine St., between Broadway and 10th Avenue East. If you enter from 10th Avenue, you'll be on the right staircase to find the Mime Theater. Parking is hell (though really not worse than Seattle Center). The #7 or 10 bus will get you right to Broadway and Pine, the 14 or 43 get you in the neighborhood.

Dates and times are:

| | |
| --- | --- |
| Date | Time |
| Saturday, March 22 | 4-7pm |
| Sunday, March 30 | 5-7pm |
| Saturday, April 5 | 3-6pm |
| Saturday, April 19 | 3-6pm |
| Saturday, April 26 | 3-6pm |

Note that there is no Seattle juggling on April 12 because everyone is required to attend the Portland Juggling Festival. We are hoping that the beginning of May will be warm enough for outdoor juggling at Seattle Center again.
---
Local/Regional Festivals
Each fall for the past several years, some folks up on Lopez Island have put on a nice, small juggling festival complete with salmon barbeque and a peaceful atmosphere. If you're on our mailing list, you'll probably receive info when the time rolls around.

The Portland (Oregon) Juggling Festival is the best regional festival anywhere, and takes place each year in early April at Reed College. Don't miss it!

Many jugglers show up from all over the west coast for Folklife (each Memorial Day Weekend) and Bumbershoot (each Labor Day Weekend). Both these events take place at Seattle Center, and jugglers usually congregate on their traditional practice ground near the International Fountain.
---
Contact Information
General Information:

To verify meeting times and places, contact John Vert: 80 S. Jackson Street, Seattle 98104; (206) 292-9020; jvert@microsoft.com.

Mailing/Phone List:

To add your name to our mailing list, donate money to cover postage, etc., contact Dick Curtiss: 843 NW 54th Street; Seattle 98107; (206) 784-8018; 70671.1734@compuserve.com.
Please note: the mailing list is not made available for commercial use.
---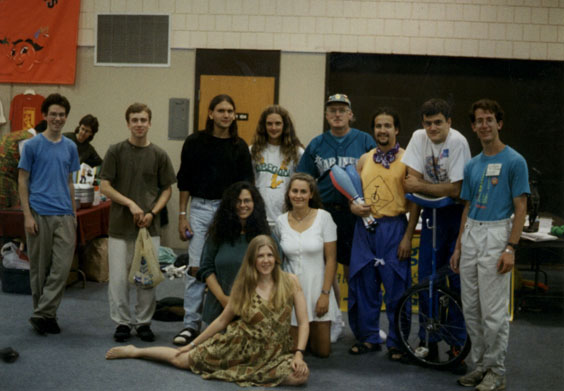 ---
Last updated: March 1, 1997.
Juggling Information Service | Cascade Jugglers