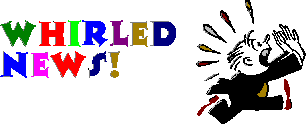 TIMETABLE TROUBLES
Because Ben Decker is now making the big-bucks as Webmaster for First Virtual Holdings Incorporated (http://www.fv.com/'), and is still doing juggling shows, and is still making Ben Decker boxes, we are cranking out Two Ply issues when we can. In short, Brad French has been dragged kicking and screaming into the post-286 era, his computer has been upgraded and he's taken on the title of "Editor" to pick up Ben's slack. We're not always monthly yet, but worry, not! When you pay for 12 big issues, you get 12 big issues (it may be the "year of the rat," but we would never gyp our loyal subscribers). Check out the number on your mailing label to see how many issues you have left!
TALK CIRQUE
Cirque du Soleil will take its "Alegria" show touring in Japan this month with the first stop in Tokyo and then going on to Europe for two years. This summer's U.S. Olympics in Atlanta will feature opening ceremonies creatively assisted by "senior Cirque staff" as well.
ISLA VISTA BASH
The 20th annual (did we say 20? Yes, we said 20!) Isla Vista Juggling Festival is tentatively scheduled for April 5-7, 1996 in Isla Vista, CA close to the UC Santa Barbara Campus. This is the one of the best of the West Coast Fests! For complete information, call Kent Howard at (805) 685-0499 or David Lewis at (805) 968-5669. One thing for certain, it's free, free, free!
WATERWORLD, PART 39
Remember the good old days in San Francisco when street performers ruled at Pier 39? Remember how they all got kicked out in the summer of '94? Ever wonder what could replace them? Well, how 'bout "UnderWater World," a $40 million, 707,000-gallon marine "eco-attraction" set to open in mid-April this year. Admission prices will be $12.50 for adults and $6.75 for kids with a capacity of 650 "visitors" per hour. Operating hours will be from 10am to 10pm, 365 days a year. Included in the attraction is a 2,800 sq. ft. merchandise shop featuring caps, shirts, and other "regalia," all available with the UnderWater World logo. UWW president Michael "Moby" Gallagher says the goal is to draw 1.75 million people in the first year. The Two Ply staff is relieved that none of those millions will ever have to experience that moment of indecision over whether or not to give the nice juggler a buck.
ERRATA AND CONGRATA
Two Ply Press would like to apologize big-time to Billy Q. Barrett. When we printed his "Night of the Living Jugglers" story, there were a couple of parts out of order (It was still a great story, but the original was even better...). We also spelled his name wrong. We're sorry, Billy Q! To make it up to you, and to thank you for all the great submissions, you are the first official recipient of a limited-edition "We're the Press, Dammit" T-shirt.

Soon to follow, we're also sending limited-edition T's to Michelle Gerdes (thanks for all the photos! Now that we have a scanner, we can actually print them so they can be seen!) and Jerry Martin (Mr. "Top Ten" himself!). Congratulations to all, from your pals at the "Press."
---
Two Ply Press / Juggling Information Service / Sample Issue / jis@juggling.org