Bela Kremo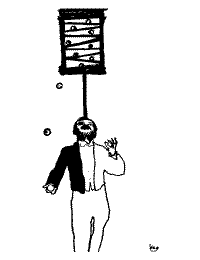 Kara

Sergei Ignatov

IJA Birthday Card

Xu Mei Hua
About the Artist...
KAREN E. GERSCH has a BFA with Honors from Pratt Institute, and a childhood love of circus. A free-lance graphic artist and set painter, she has created backdrops, illustrations, and designs for numerous circuses, theatre productions, and ballets; as well as for such corporate clients as Warner Bros. and Henson Associates.
Karen was a juggler with two comedy club-passing troupes before studying acrobatics intensively with Nina Krasavina, (Moscow Circus). When she met Michael Moschen 24 years ago, his juggling partner was Penn Gillette, (of Penn and Teller fame), and she was the Producing Clown of Great Adventure Amusement Park. She appeared in Moschen and Gillette's Act, "The Tumescos" during this period. She also sponsored Moschen and juggler Peter Cunneen to their first IJA Convention in Youngstown, Ohio, where both took the top competition awards in junior and senior divisions. At the end of that summer, Penn left to team up with Teller, and Michael left with Karen for New York. Her large loft on 17th St. was home to his developing solo acts, as well as to weekly "Open Juggle-Ins", and the start of what became the Big Apple Circus. (Both Karen and Michael were founding members and performers for several years.)
Karen has toured as an acrobat-juggler with philharmonic orchestras and three ring-circuses throughout the United States and Canada, and with one-ring shows both here and abroad. She co-founded a non-profit physical arts company, ACROBRATS, in 1981 with partner Niki Swarthout. Two years ago, she and juggler David Sharps created a highly successful performing arts series: "CIRCUS SUNDAYS" on his Showboat Barge moored in Red Hook, Brooklyn. Every Sunday in June, they produce a variety show of circus and vaudevillian style acts.
In the past year, Karen has mounted major art exhibitions at Lincoln Center's Clark Theatre, at the Grande Hotel Concorde in Lyon, France, at the Hudson Waterfront Museum, and most recently, for Fairfield University's Quick Center Gallery. The IJA's 50th Festival artworks are selected from her ongoing Circus Portfolio. Some pieces have been exhibited in group and solo shows in New York, Montreal, Washington, D.C.; many are in private collections around the world.
In her New York studio, Karen works primarily in oils on canvas. On tour, she keeps sketch diaries of life on the road and under the big top. Her drawings, rendered from acts and artists she's seen, span 30 years and many genres. Her "historical works", rendered from films and photographs; (Karl-Heinz Ziethen is a longtime contributor of inspiring images) help preserve the period and styles of the great Vaudevillians.
There are stories to accompany many of the drawings, from Sergei Ignatov's debut of eleven rings backstage at the Moscow Circus, (Madison Sq. Garden, 1977-78) to the rapid-fire line studies of Francis Brunn rehearsing in New York, or Gran Picaso, Jr. competing in Paris at the Festival Mondial du Cirque de Demain. From portraits of classic vaudevillians (Richard Hayes, Bobbie May), to modern masters, Kris Kremo and Michael Moschen, (still her favorite subject and closest friend).
For more information contact Karen E. Gersch at 332 Bowery, Penthouse Studio, NY, NY 10012.