Nebraska Juggling Clubs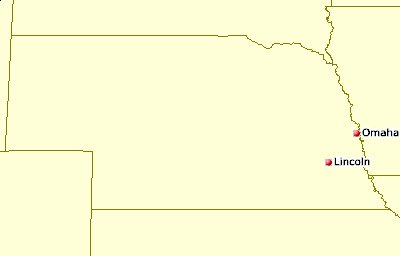 Omaha (+41.3019,-095.9979) maps
Omaha Juggling Club. Monday, 7:30-9 PM. North Side Christian Church, 5555 Larimore Avenue, Omaha, NE 68104. Renee Crosby, 402-493-5085 (h), 402-559-4087 (o), e-mail rcrosby@unmc.edu; or Brian Phillips, e-mail phillips@radiks.net.

Lincoln (+40.7987,-096.6728) maps
Lincoln City Jugglers. Wednesday, 6:30 PM to dark; Sunday, 3:30-6 PM. The bandshell in Antelope Park, 33rd and A. Time and locations vary. Rick Prevett, 402-476-0715, e-mail RickPrev@aol.com, 2344 South 22nd Street, Lincoln, NE 68502; or Patrick Donohoe, 402-474-0703 (o), 1937-C Street, Lincoln, NE 68502.
---
Nebraska Juggling Clubs / Juggling Club Meetings / meetings@juggling.org © 2022 Juggling Information Service. All Rights Reserved.