Connecticut Juggling Clubs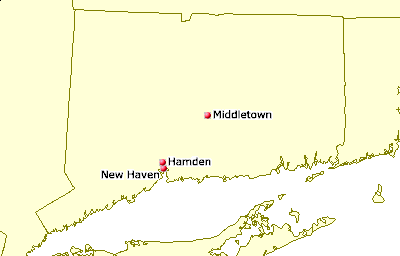 Middletown (+41.558,-072.655) maps
Wesleyan University Juggling Collective. Monday, 8 PM, Science Center Lobby. Friday, 4 PM, nice weather on Olin Lawn, poor weather in Freeman Fieldhouse, Science Center Lobby. Brian Edwards-Tiekert, e-mail bedwardstiek@wesleyan.edu.

Hamden (+41.3400,-072.9360) maps
Suspended Animation Juggling Club. Wednesday, 7-9:30 PM. Keefe Community Center, George Street, off Dixwell Avenue. Tony Komosinski, 203-281-7864, e-mail Tony.Komosinski@asml.com, 12 Greenhill Road, Hamden, CT 06514.

New Haven (+41.3091,-072.9296) maps
Yale Anti-Gravity Society. Sunday, 2 PM until dark, during school year. On the Old Campus of Yale University, between High and College Streets and between Chapel and Elm Streets. In bad weather, at Jonathan Edwards College Squash Court. Dave Hurwitz, 203-776-5544, e-mail david.hurwitz@yale.edu, P.O. Box 203657, Yale University, New Haven, CT 06520; or Fran Favorini, 203-387-5003, e-mail francis.favorini@yale.edu, 190 Ray Road, New Haven, CT 06515.
---
Connecticut Juggling Clubs / Juggling Club Meetings / meetings@juggling.org © 2022 Juggling Information Service. All Rights Reserved.