Juggler's World: Vol. 39, No. 4
Coming of Age in Saintes
Article & photos by Bill Giduz, editor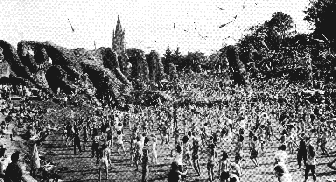 The Big Toss-Up in a Roman arena
---
It was easy to imagine a Roman arena full of jugglers. But who could have imagined the tremendous time, energy and enthusiasm of the people of Saintes. France, in helping it happen so magnificently?
In effect, the four people calling themselves L'Institut Francais de Jonglage recruited 100 assistants who helped assure the 10th European Juggling Convention would succeed like none before it.
Officially, 962 "friends of the juggling family" from all over the world flew, rode trains, hitch-hiked, drove and even sailed (just right up the Charante River, 30 miles from the Atlantic) to Saintes.
They were greeted in the streets from the moment they arrived with 6-foot glowing orange posters welcoming them and all others for the festival ahead. The administration on site was efficient and courteous. Sign in and pay 100 francs at this table, go over to the tent for your room. Under the steaming circus tent a dozen town volunteers asked you if you wanted to stay in a hotel, a dormitory, a family's home, or perhaps you'd like to camp? The latter two options were free! More than 450 people ended up crowding the river-side campground. As you might imagine, the late-night carousing was wildest there.
Enter the Halle Pierre Mendez France - a big hanger-like building full of jugglers. It is 370 ft. by 110 ft., and the ceiling is far out of harm's way above. Perfect for thrown toys -- balls, clubs, squawky balloons, paper planes.
Prepare to join the increasing throng inside, but you must show your i.d. badge at the gate. You'll want to take this badge home as a memento - a Gumby-ite foam figurine juggling beads that was handmade by 10 members of the Nantes Juggling Club and the Institut Francais de Jonglage.
Simply curious visitors could watch the floor action from behind a perimeter barrier. But you had to show Gumby to get inside it. Most jugglers enjoyed mingling on the gym floor. Others sought out the cooler, less crowded expanse of a park adjacent to the juggling hall. In between the two was a swimming pool that proved to be a major afternoon distraction during the hot afternoons of the Charante-Maritime late-summer dog-days.
Jochen Schell
The town of 30,000 provided a picturesque setting for a convention of colorful people. Old stone buildings dating to the Middle Ages flanked the Charante River. Outdoor cafes gave an ideal viewpoint for watching the world roll by. Main street was draped by the foliage of platane trees, a cool covering over the quarter-mile parade of jugglers who marched from the juggling hall to the Roman arena for games Saturday afternoon.
More than anything, though, the European convention showed the growth of juggling on the continent over the past ten years. The size of the gathering and formation of the European Jugglers Association were recognized as historic benchmarks.
As always, the story of the convention is best told from the point of view of the people who made it successful.
Here are some:
Danny Avrutik. His flute melodies floated around drum beats to set a festive stage for a night-time fire juggle by the Charante River on the second night of the convention. A large crowd gathered on the quai around a clearing reserved for jugglers of torches, devil sticks and a flaming diabolo.
Tim Batson. He organized the third European convention in London. His friend, Lynn Thomas, had organized the first European convention in Brighton, England, as a close alternative to the IJA convention. Batson noted that the five ball endurance contest has been a convention activity since the beginning, but that little else has stayed the same.
Moshe Cohen. An American-born performer who has spent the past several years wandering Europe. It's a lifestyle shared by several other people who came to Saintes - Avrutik, Lee Hayes, Ed Lamont, David Lichtenstein, Kevin Brooking and Cotton McAloon among them. The challenge of entertaining crowds in different languages has given these people a sharp sense of what works.
Brooking, for example, silenced a rowdy Club Renegade crowd on the first night of the convention with actions as simple as playing with a cigarette lighter flame. Pushing in different body parts created different notes from a penny whistle in his mouth. He attaches a balloon to his flute and plays "Yankee Doodle" with it.
Kevin Brooking playing flute
Moshe, a veteran of several European conventions, MC'd the three-hour public show on the convention's final night. The juggling hall was transformed into a 2,200-seat theatre with portable bleachers and sold out.
Notable acts he introduced included: John Ballenger's three ball manipulation in jester costume, Barry Rosenberg's flawless runs of six and seven balls; the extraordinary diabolo passing of Duo High Fidelity; Antonio Bucci's bouncing of 7 and 8 balls; Marianne Stamp's coldly appealing new-wave ring routine; the comic antics of jugglers-turned-tennis-stars Bernd Bothe and George Meuller; the sensual and the hard-edged dance of the Kempovskies. Moshe took center stage himself for a torch swinging piece.
Cotton McAloon. Winner of London's 1986 Covent Garden Street Performer's Championship. This hard-living, high-energy performer was thrust onto the European scene early when his father moved to Paris to escape the Vietnam draft.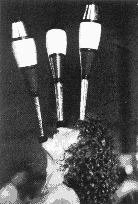 Cotton McAloon
A pinball addict at age 15 who quit school at age 18 to juggle full-time, he speaks five European languages. He's recently joined with a fledgling circus, Parody Paradise, in Germany to present small ensemble circus-theatre around Europe. "I want to be free, perform, then do nothing the rest of the day," is a quote that captures his gypsy attitude. Some would call him debauched, and he has a jail record to support suspicions of a lifestyle on the fringe of proper society.
But his juggling is smooth and creative. He rolls clubs on his head like others do balls, juggles five clubs and shows a vicious yo-yo act. His bright red hair, lack of nationality, bawdy jokes and loud personality are all assets in the anarchy of the European streets. Still young at age 22, he makes no plans about his future career. "I'm never sure of anything except that I enjoy being the center of attention," he said.
Gregor Popovich of Moscow did not come, unfortunately, though his image while juggling rings atop an unsupported ladder (like that in JW, Vol. 37, No. 4, page 9) plastered the posters all over town and reams of informational programs available at the press office. Press coverage of Popovich would have been considerable had he attended. Two radio stations broadcast from studios set up on premise. Television news people were likewise fascinated with the colorful events of Saintes.
Several of the conventioneers took an active role in the formation of the European Juggling Association, now recognized as a legal entity in France. Those listed below are members of its first steering committee:
Loic Baylacq, Le Rheu, France. He met members of the Institut Francais de Jonglage three years ago and became an instant juggler and juggling fan. While members of the institute were out of town, Baylacq was the contact between the city of Saintes and the juggling community.
Michael Bonnet, Copenhagen. A former member of the performing troupe Die Kapriolen, Bonnet is a veteran of several mini-conventions held annually in his own town. He offered to try to host the 1988 convention in Copenhagen, but the possibility has since fallen through.
As of press time, no site had been chosen.
Fritz Brehm, Frankfurt. Co-organizer of last year's European convention in Castellar de la Frontera, Spain, and the 1984 Frankfurt convention. He was the only three umbrella juggler in Saintes. He showed it publicly on the Renegade stage, which began at midnight on a small hillside beside the Club MASC, a youth center.
The two evenings of entertainment there showcased the variety of talent on hand: Spanish unicyclists Ramon Boni and Jordi Caroli; Italian acrobats, mimes and magicians Salvatore Mereu and Claudio Madie; American huge-loop rope spinner David Lichtenstein; the M.C.'s Moshe and Andre Vincent (a.k.a. 'Arry Pavarotti), who shared native expertise in the lingua franca of the convention - English; the Danish comic acrobatic couple Maj-Britt Hansen and Uffe Dittmer (a.k.a. Die Glade Artisten); shocking and sensual acrobatic dancers Martin van Bracht and Sabine Rieck (a.k.a. Die Kempovsky); more hard-edged Berlin-style cabaret entertainment from tuxedoed robot-mime Detlef Winterberg; and many more.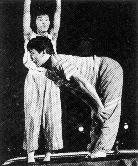 Claudio Madio and Salvatore Mereu
David Lichtenstein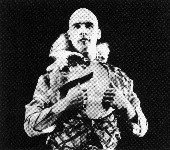 Martin van Bracht
Michael Genahr, Berlin. Diabolist of considerable talent in team with Karin Johnson as the Duo High Fidelity. Genahr taught this increasingly-popular juggling activity in one of about a dozen convention workshops.
Kevin Brooking (above) and James Angelo lead a workshop in "accidents"
Erik and Susanne Jensby, Fredriksberg, Denmark. This couple, performing as Ping and Pong, has organized an annual Scandinavian convention with their juggling club. At the arena Saturday afternoon, Susanne received a crown from the Julius Caesar of the day, Todd Strong.
Winners of the long-distance club passing contest were Eddie Krzeptowski and Erik Wenaker from Brussels. Jean Michel Pare from Quebec won the exciting unicycle races. As expected, Michiel Hesseling from Amsterdam won at five balls and five clubs. How did Susanne Jensen win her helmet from Caesar? It was her birthday and Caesar took note!
Eddy Krzeptowski, Brussels. Organizer of the 8th European Convention near Brussels and talented member of Cirque de Trottoir there. He appeared with partner in the public show - a snow-white pooch named Sakya.
Eddy Krzeptowski & Sakya
Krzeptowski might also be considered as a man before his time, as he tried to organize a European Juggling Association at the Belgian convention. The effort failed for lack of membership after a year. However, his realization that the size of European conventions demanded some sort of organizational structure was the exact reasoning used in successfully launching the EJA in Saintes.
Jean-Marc Lucas/Sue Hunt, Meric, France. Moving forces as members of the Institut Francais de Jonglage. Returning from the Spanish convention, Lucas realized the benefit of a European Juggling Association in helping him and the institute prepare for the following year's convention in Saintes. He nurtured it throughout the year and set it forth as the main business meeting item in Saintes.
Sue Hunt
Tim Roberts. Heart and soul of Saintes convention, often seen wearing a visible orange jump suit and equipped with walkie-talkie. He came away with a reputation as an organizational genius, though he may say it's undeserved. Roberts was front and center with Mayor Michel Baron one evening in a welcoming ceremony at town hall.
Cesar Salvadori, Geneva. A sports teacher and leader of a juggling club. Salvadori's good business sense and enthusiastic contributions to the discussion of the EJA in several small business meetings were welcomed.
There was much to discuss in considering formation of the new association. People realized the growing scope of recent European conventions was a tide that would not, and should not, turn. Bigger events, however, require firmer management of some type. As it ended, they decided to limit their governance structure at a small group of directors who could facilitate conventions and attract opportunities. There would be no common membership in the EJA, nor support of the European juggling magazine, Kaskade. The group is now legally sanctioned as an association in France, with plans to achieve similar status elsewhere in Europe.
Karl-Heinz Ziethen, Berlin. World's leading juggling archivist. His interest extended into a circus conference held in conjunction with the juggling event. Ziethen's films were a visual encyclopedia of jugglers from Felix Adonos, the last of the gentleman jugglers, to Koma Zuro, a contemporary Japanese top spinner.
Likewise, many hours of circus film were shown, including styles as diverse as those of Chaplin and the Chinese. Honored guests besides Ziethen included representatives from Circus Gruss, Circus Fratellini, the director of the French national circus school in Chalon-sur-Marne and the president of a national circus support association. Besides the entertainment value of then presence, they conducted a round-table discussion of their concern for diminishing public support of European circus.
---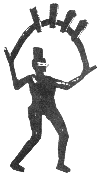 Saintes in Perspective:
Ten Years of European Juggling Conventions

year   site                    organizers

1978   Brighton, England       Leslie Thomas
1979   Edinborough, Scotland   Lindsay Leslie
1980   London, England         Tim Batson
1981   London, England         Tim Batson
1982   Copenhagen, Denmark     Jonglorer md Tyngdekaften
1983   Laval, France           Institut de Jonglage
1984   Frankfort, Germany      Schwerkraft Na Und
1985   Brussels, Belgium       Cirque de Trottoir
1986   Castellar, Spain        Hermann Klink, Fritz Brehm
1987   Saintes, France         Institut de Jonglage

---
Coming of Age in Saintes / Index, Vol. 39, No. 4 / jis@juggling.org © 1996 Juggling Information Service. All Rights Reserved.