Echoes of the Past, Part I, Kara
By Horace Morton Lorette
The Original Dancing Juggler
IJA Newsletter, January 1957 and February 1965
---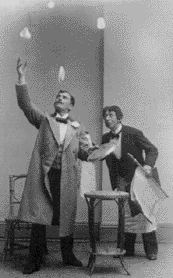 Fifty years ago, I considered the three best jugglers to be Kara, in frock coat; Cinquevalli, in tights; and Salerno, in immaculate evening clothes. My first choice was Kara. To describe his entire routine would require considerable space, so I will confine my remarks to a few of his best tricks.

Juggled egg, plate and egg cup. Caught egg in cup, then threw egg high to catch on china plate. Threw egg up again, this time assistant got in the way and egg breaks on his head for a laugh.

Pulled table cloth from under large amount of crockery and spun the cloth on the end of a billiard cue. Juggled triangular pool ball rack, chalk, bottle and a cue (four articles). Tossed coin to toe of shoe, then kicked it to eye, a la monacle.

Juggled table, candlestick, and candle. Sat on chair, put glass of wine on three straws and put to head balance. While balancing this, he spun a tray on finger of left hand and juggled bottle and plate in right hand.

Tossed a match, match box and cigar, lighting match on box. Then took candlestick and tossed candle in air, lighting candle from match during the turn.

A knock-out was his juggling four balls in right hand and hat and ball in left, catching hat on head and going into five-ball shower without stopping, then catching balls in the hat.

Next was a clever routine with knife, fork and orange. At finish, he cut the orange in two pieces with the knife and continued to juggle the 4 objects. (It may have been a turnip or something colored like an orange as it seems hard to cut orange even with a razer-sharp knife.)

Then he did 5 different objects -- knife, fork and orange in right hand, plate and napkin in left. This was followed by some nice plate moves, three continuous around back rolled two plates from hand to hand across body passing each other, one across chest and another across back of neck. Then tossed 3 plates in right hand, spun bowl on end of ladle in left hand, then throwing up bowl and ladle to left hand juggle, juggling all five.

Next Kara balanced a hat rack on his chin and juggled 3 high hats. Then he tossed a hat to one prong, the second hat to another prong, and the third hat went to the top of the rack.

Sometimes the assistant and Kara did a head-to-head balance. Kara would juggle the 3 hats, tossing one to each of the assistant's feet and one on his 'pratt.' With that, Kara would walk off stage with the assistant still balanced on his head.
---
Return to Kara home page