The Trail of his Hoops
Traces the Long History of
Bob Bramson
Across the Stages of the World
Scott Malone, Juggler's World, Vol. 48 No. 2, Summer 1996
---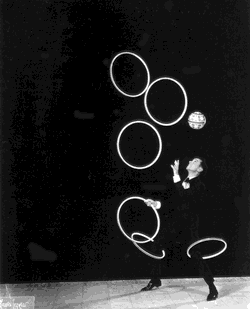 On the evening of July 20 at the IJA festival in Rapid City, SD, Bob Bramson was to toss his last "hoop-Johnny" on the stage. The hoop will roll slowly away from him and make an apparently meandering circle. Then, as if pulled by magnetic energy, it will slip perfectly into the open door of a screen cylinder. Bramson will cross the stage, close the door, smile and end a performing career that has spanned more than 53 years. The IJA honored those years of service to the art by presenting Bramson with this year's Historical Achievement Award.

Bob Bramson was born in August 1933 to German hoop-rollers Paul and Gertrude Bramson. His parents, already second-generation performers, were quite popular in the music-hall scene of the time. Within six weeks of Bob's birth, the three Bramsons were on the road to the Soviet Union, where Paul and "Gerti" spent the next five years performing in the state circus.

The Bramson family act was created in 1902, when Bob's father, a former billiard player, began to juggle and roll hoops - the wooden rims of old-fashioned bicycle wheels. In the classical act, the three-quarter inch thick hoops, ranging from 18 to 28 inches in diameter, are rolled across the stage and over the juggler's body. In his act, Bob also juggles up to seven hoops - a feat of considerable strength considering that each weighs a pound. He also balances two on his head while spinning two on his leg and three on his arms, and rolls them across the stage into the open screen in the finale developed by his parents.

His show has changed over the years. Since 1992 he has employed what he describes as a "Blues Brothers-inspired theme." A bearded Bramson wears a dark suit, tap dances, jokes with the audience, and - while juggling - pauses to drink and smoke (a habit he affects solely for the show). He explained, "It's not the classic act because we don't have that audience anymore. But I have fun with this."

Bramson believes fun is a key in his profession. "Juggling must be fun... out of habit you can make a handstand or hang from a trapeze, but juggling has so much to do with concentration and good nerves that an unhappy juggler is doomed."

Paul Bramson, his father, was a native of Bad Pyrmont, Germany, a town near Hanover. Paul developed his hoop-rolling act shortly after the turn of the century, but was not the first performer to use the prop. An American juggler named Everhardt also performed with hoops in the 1880s. Paul Bramson did focus on it, however, with an intensity that made him in demand in music halls across Europe. He performed at the openings of many major houses, including Berlin's Scala in 1926. The elder Bramson was also an early adapter to the electric age, and invented lighted hoops, which he patented in the United States, England and Germany.

Gertrude LaRoche joined the Bramson act in 1930, following work with a Hungarian club-juggling troupe called the Five Luxors. She was the daughter of Leon LaRoche, a circus veteran who had performed with Barnum & Bailey Circus from 1895 through 1902. LaRoche developed an act called the "Bolla Mysteriosa," a man-sized sphere that a performer, hidden inside, rolled up and down a spiral track almost 30 feet high. Gerti, who also had an uncle who worked as a juggler, took over her father's bolla myseriosa act in 1924. Three years after joining the Bramson act, Gerti married her partner, Paul.

Bob remembers very little of his first years, other than a smattering of Russian he picked up from childhood playmates. But his later childhood memories are vivid. "Before the fifth grade, I attended 53 schools," he said. "Every 15 days or every month, there was a different town.

He kept a small book, like a passport, to keep track of his education, and he enjoyed traveling. "It makes you brighter, he said. "As a child I knew all the big towns of the world. It is a very, very interesting life... living with all the animals in a circus and moving from town to town.

On the other hand, he was stifled by remaining in one place. When he stayed with his grandmother in Berlin to attend German schools, she made him study ballet, tap dance, piano and violin. He said, "I was fully booked. It was too much finally. You can't put that much into a child.

He first began to juggle at age six, after watching an eight-year-old girl practicing with clubs. He went home and tried to juggle hoops - which are the only prop he has ever juggled in performance. In practice he also juggles hats, balls and clubs for his own amusement. The learning curve was very steer, at first, but little by little, his ability and intensity began to build. "I thought it was very nice to go the theater or the circus building in the morning to rehearse, but I never did too much, really. Rehearsal was only two hours or so when I was young," he said.

But even with that moderate practice regimen, he was juggling five hoops at age eight. He learned many valuable lessons about juggling during those early years. He remembers practicing in a circus building in Copenhagen, where there was a very narrow and very high dressing room. He said, "For a juggler that is a very good thing because you have to put the things in exactly the same point. This is one of the most important things, juggling on the place. Otherwise, I could not juggle on one leg spinning two hoops."

His first performance came in May 1943, at the age of nine. The Bramsons were attending a children's performance in Goteburg, Sweden. At the end of the show, the emcee asked if anyone in the audience could perform. "And I screamed, 'Yes, I can! I can!' And this was the beginning of my juggling career," Bramson recalled.

He juggled five hoops, and didn't miss anything. "My parents were very proud," he remembered.

Shortly after that, he joined his parents' act, and first experienced the stress of performance. "You go on stage and it is the toughest thing in the world," he said. "I was very nervous and I always went right to the rest room while waiting to go on stage. My mother was very nervous that I might not come back in time!"

As a young juggler, he developed practice habits that even outdid his parents. After coming home from school, he would rehearse for eight or nine hours, sometimes wearing the skin off his palms. He said, "I was a maniac. Sometimes at 11 or midnight, my mother would come to me and say, 'Now stop, Bobby. That is enough now.' I was crazy for this."

Once he had mastered his parents' act, he developed a new practice philosophy. "I always rehearsed new tricks - but I never put them in my act. I always tried something new. I tried nine hoop juggling, but I never performed it because it was never 100 percent."

He does not mind that he was unable to perform nine hoops, even after 10 years of practice, for two reasons: It has made his seven-hoop juggling seem like nothing, but also because jugglers "are not in the Olympic games."

He explained, "This is what I don't like, when we say, 'Now we are juggling nine, now we are juggling 10, now we are juggling 11.' Forget it! This is not the main thing of show business. I know artists who do acts juggling three balls that are fantastic. It's how they juggle and how they present three balls. That's the difference between art and the Olympic games. There you have to be the fastest, or the strongest, or whatever. But not in art. Artists entertain people. And make them happy"

Bob performed with his parents across Europe, at music hall after music hall, until 1953. Then came that terrible night at the Apollo Theater in Dusseldorf, Germany. His father did the performance, did his last trick, and then had a heart attack and died on stage. "For my mother and myself it was very bad, Bob said. "But for him... he had been an artist for 53 years and was performing in front of 3,000 people, and the curtains closed, and that was the act.

His father's death did not stop the act. Bob and Gerti went on the next night, and eventually found that performing as a duo was not so difficult. His mother had always been the choreographer, and with her careful planning, there was never a dead moment. "When you still have a partner, she always can help you. We did double tricks. The whole act was like a picture, going one thing into another, with never a moment of emptiness," he said.

Bramson found that the most important thing about having a partner was having someone there to help out when he dropped a prop. But in 1964 his mother retired and he found himself alone on stage. "It started getting really hard to work all by myself, to have a driving act," he admitted.

He developed his signature drop line out of the blue one night on stage during a difficult moment. He explained, "For my very last trick the hoop was supposed to go around and into the little screen. But the stage was very difficult, and I missed it once. Then I missed it three times, and I didn't know what to do.

On his fourth attempt, sweating with anxiety, he released the hoop and watched it slowly roll off in the wrong direction. "out of desperation, I said, 'Johnny, come back!'"

And the hoop did!

He closed the door of the screen, and waited for the audience to stop laughing. And while he was waiting, he realized that he had a line he could use for the rest of his life. It is the sort of lesson that only performance can teach, he said. Ever since then he has feigned missing his finale trick. Then he called Johnny, and Johnny always came back!

Bramson realizes that his hoops have been children's toys since the Middle Ages, and he tries to present his act as play. But he notes that working as a hoop performer presents difficulties that straight toss- juggling acts need not consider. Drafts and low ceilings aside, the air in most performance venues is equal and does not provide major impediments to flying props. Hoop rollers, however, are vulnerable to the challenges presented by giant, often tilted or rough stages.

He recalled his Royal Command performance in London's Victoria Theater, when he realized at the dress rehearsal that the stage was built with such a sharp tilt that all his hoops might roll into the orchestra. Realizing that he would need a lot of practice, he talked the management into letting him practice from 2 am to 5 am the morning before the show. After his three hours of practice, he felt confident that he could compensate for the sharp rake of the stage.

That night, he waited anxiously in the wings with the rest of the performers while the Royal Family arrived. Once they had been seated, the host of the show, whom he only refers to as "a very famous Australian comedian," walked onto the stage and opened his monologue with, "Your highness, lords, ladies and gentlemen, we are all so nervous, and the juggler is dropping everything!"

Bramson did not consider this line as a confidence booster, but nonetheless made no mistakes in his act!

Very large stages also pose difficulties to Bramson, who must try to roll hoops 30 yards at a time to fill the space. Performing in New York City's Radio City Music Hall in the '60s, he was dismayed to learn - in performance- that the hall used an aging air-conditioning system which caused a massive draft off the stage and into the audience. he began his act and missed his first trick two times before the stage manager realized the problem and shut down the system.

His favorite performance memory occurred when he missed a hoop while performing in the Moulin Rouge in Paris. It caromed off stage and into the audience, where it hit an unsuspecting patron in the mouth. Bramson ran off stage, shocked and embarrassed, and apologized profusely to the man, who brushed it off, handed him back his hoop, and sat happily through the rest of the show - smiling through his outrageously swollen lips!

The only non-hoop item he ever performed with was a large inflated ball, which he bounces on his head while spinning a hoop on each leg and juggling four. "There are three tempos, and to get that is very difficult," he said.

The trick first occurred to him while he was working in Sweden, but it was some time before he could coordinate the rhythms well enough to perform it.

Tempo is very important to Bramson, to the point that he has had two pieces of music composed especially for the acts he did in the '70s and '80s. Some of his worst memories involve performing with band leaders who sped mercilessly through his pieces, or who dragged so slowly that every trick became an exercise in controlled deceleration.

While most of Bramson's performing life was spent in music halls and hotels - the gypsy life kept him continuously away from home from 1969 to 1973 - he has had the luxury of working full-year contracts on 20 occasions. This has allowed him to devote time to work that would otherwise have been spent travelling.

When he was performing at Las Vegas's Tropicana in 1970, he returned to the study of ballet and tap dance to develop a new act with his wife, Elizabeth. The called it "Renner & Renner, Tap-Dance Jugglers." The Renner name was one that his family had used when performing in Nazi Germany, when Swedish names were not a prized commodity among entertainers. While the act was never performed, developing it was symbolic of his dedication to the art.

The dedication is also reflected in his strict personal regimen. He has never smoked or drank, and has always found a way to get nine hours of sleep per night - even when performing in Spain when he didn't get home from shows until 3 am. Fitting nine hours of sleep, seven to eight hours of rehearsal (every day except Sunday), and often two shows into his schedule has often proved a challenge, but Bramson realized it was necessary.

Even performing less in the past seven years, he has maintained a practice schedule. If he has spent the entire day relaxing around the house, he said, he will still pick up his hoops at 5 pm and practice for an hour and a half. "You have to be ready for the performance opportunities that arise!" he said.

Bramson had done 63 television performances during his career, and the high point was his appearance on The Ed Sullivan Show exactly one week after The Beatles' famous American television debut. "Everything was so professionally done, it was a great atmosphere," he recalled.

Despite his positive memories of television performances, Bramson is disappointed by its effect on the variety world, and has mixed feelings about the future of live entertainment. From a positive point of view, however, he said people who have become used to seeing everything on television often seem surprised at how exciting live performances are, and said his act has received strong responses on college campuses.

Unfortunately, he does not think that live variety entertainment can be resurrected on a large scale anytime soon, and the thought saddens him. There simply aren't enough acts any more to support a large revival, he said, so even if people tried to open music halls, they would be hard-pressed to find enough entertainers to draw audiences. "What is life if you don't go out from your four walls?" he asked.

The facts of the matter have ended the line of Bramson entertainers - his daughter. Peggy, is studying psychology.

After more than half a century, Bramson said, he looks forward to retirement. His mother died in 1980 and, shortly after, his wife retired from performing to open a balled school in Germany. He looks forward to returning home, and being near the hot springs which have attracted visitors to Bad Pyrmont since the Middle Ages.

He said that he is grateful to have worked in a time when a performer could still make a living while seeing the world. he is also pleased to have known many of the world's great jugglers, from the Kremos to Francis Brunn to Sergei Ignatov.

He concluded by urging amateur jugglers to approach the art as he did - by trying to develop new and unique ideas. "I always wanted to be a good artist," he said. "Not necessarily the best, but a good one."
---
Return to Bob Bramson home page