Juggling - its history and greatest performers by Francisco Alvarez
PART 6: "Wall Street Lays an Egg"
---
The late 1920s are upon us; Herbert Hoover is in office as 31st president; Mickey Mouse is born in a garage; "Wall Street Lays an Egg," says Variety, referring to the crash of the stock market; Hollywood stars are uneasy about the coming of the "talkies."
I cannot talk - I cannot sing
Nor screech nor moan nor anything.
Possessing all these fatal strictures
What chance have I in motion pictures [1]

THREE REVIEWS FROM '28 - '29
Felovis was at the New Palace in Chicago on July 22, 1928, and a reviewer had this to say, "Felovis, European juggler, is a fast worker, unusually clever and with a real gift for entertaining. Works without a hitch - a great act." Elly was reviewed at the Palace in New York on January 28, 1929, as follows: "Elly, girl juggler and balancing artist, gave this good show a fair start in her drawn-out routine. Act nicely dressed and consistently executed but can be reinforced in speed. Went off to a pleasant hand."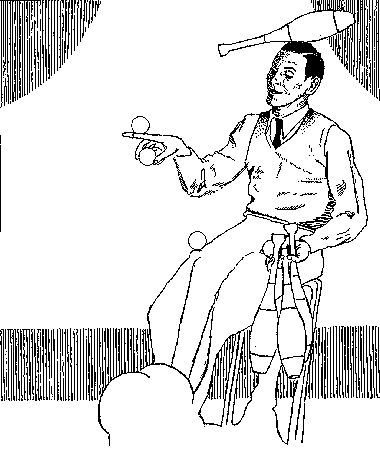 Bobby May

On Sunday afternoon, March 24,1929, Nat S. Green reviewed a young juggler at the New Palace in Chicago: "Bobby May, a youthful newcomer, was one of the cleverest jugglers seen here this season and went over great. Less talk and more pantomime would help this young man reach the top."

Quite a few artists were now working in the style of Rastelli. Some had learned it from Japanese influences, Rastelli himself from Takashima, Serge Flash from the Andos Troupe. Others tried to emulate the great Italian master. Still others had adopted the medium much as a painter embraces an established technique. The style soon acquired a name. The Germans called it Gummiball und Stock (sometimes Bälle und Holzstäbe). We called it stick-and-ball. The style itself raised some questions. Was it new? Was it really Japanese?

Cinquevalli had done the transfer of the ball from the chin-balanced stick to the forehead-balanced stick, but he had used a cannonball, and his "sticks" were short lengths of pipe. Selma Braatz, judging from her photographs in various collections, had performed some of the tricks now associated with stick-and-ball. Perhaps they were the same old tricks under a new guise. As for the Japanese influence, gone were the spinning rice bowls, gone were the animal-shaped props. Only the sticks and ball remained as principal hardware, with an occasional set of plates or hoops thrown in, and the cotton-yarn ball had been replaced by rubber. But whatever its origin, the style was widely practiced and enthusiastically received.
Rastelli attained great separation between sticks in his two-and-one spread.

Probably no other style of juggling had ever embodied more classical and aesthetic attributes. There was no time for comedy, no time for stalling. What the performer displayed was a remarkable blend of skill and speed in its most intense and concentrated formulation . Surrounded by shimmering inflated balls and glistening white sticks, the performer worked with the grace of a ballet dancer and the assurance of a champion gymnast.

It would be an exaggeration to say that stick-and-ball juggling swept the country, but the style did revolutionize the art. The uniqueness of Rastelli was clearly that he had elevated the stick-and-ball style to heights never before attempted by man. If the reviewers were impressed by Rastelli's performance, as we have read, how much more so were the jugglers of that period who really understood the complexities of the tricks. Upon seeing Rastelli for the first time, jugglers were awestruck. An endless string of difficult tricks with almost flawless precision; the famous eight-plate juggle; consummate control over six sticks; and body motions that apparently spoke the language of the props, making them obey every command. It was clear that Rastelli loved to juggle and did it with a gusto which has never been excelled. But there was more. Rastelli was a superb head and hand balancer, and his personality seems to have had magic powers. Rastelli became a legend that lives to this day. His native talent, and his profound understanding of the laws of physics and timing cannot be overlooked. But a more realistic explanation of his success: indissolvable devotion and relentless practice.
Rastelli's funeral in Bergamo.

Three years after his very successful tour of the US, Rastelli was visiting his native Bergamo, Italy. A small but deep cut on his gum accidentally inflicted by his mouthstick became infected, and on December 13, 1931 he died as a result of that infection. But there are those who say he died of a stroke, and everyone seems to have a different version of the causes and circumstances surrounding Rastelli's death. From the Italian press, however, we get the following very credible account:

Rastelli was playing the Apollo Theater in Nuremberg when a ball hit his mouthstick with such force that it badly injured his mouth. Hemorrhage followed; so bad that doctors could not stop the bleeding. He returned to Bergamo and for several days he seemed to improve. He was well enough to go shopping with his family, and he even did a show, his last - a benefit at the Duse Theater in Bergamo on December 5. On the evening of December 12, he still seemed to be recovering, but past midnight, he collapsed and died.

The incident of the Yukon Gold Strike at the time of Rastelli's birth was now, at the time of his death, contrasted by a cruel and painful tragedy - the Great Depression. News of Rastelli's death shocked and grieved the world of the circus and variety where he had been so admired. Upon hearing the sad news, Berlin's Wintergarten suspended its performance. And the December 26, 1931 issue of Billboard carried the following account in its Final Curtain notices:
Rastelli - Enrico, 34, who was widely known on the vaudeville stage, died December 13, in Bergamo, Italy. He was the third generation of a celebrated family of jugglers and his act was one of the best paid acts of its kind in vaudeville. His last American tour was two years ago, and since that time he has been touring Europe with his own troupe. He was trained in juggling by his father and grandfather, and his father, Rastelli the Great, who survives, retired from the stage sometime ago to teach his son and to manage his theater in Bergamo.
Vanity Fair magazine, in its February, 1932 issue, (page 49), ran a full-page photograph of Rastelli over the following caption:
One of the most sensational attractions in the international world of vaudeville was the juggler Enrico Rastelli. In his twenty years devotion to his craft this son of Italy elevated it, for probably the first time, to what was unmistakably an art. The accomplishment of this was due not only to the amazing agility and complexity of the juggling itself, (he used mostly spheroids, of various sizes and colors) but to the incredible ease of his execution, and the visual impression made on the audience. Rastelli, who was the third generation and the most famous of the jugglers by that name, died in Bergamo, Italy, shortly before this photograph went to press.
The bereaved Rastelli family soon made plans to erect an impressive mausoleum. It stands today in a Bergamo cemetery where jugglers of all nations stop to pay their respects. Following is a free and abridged translation of the epitaph inscribed on the tomb .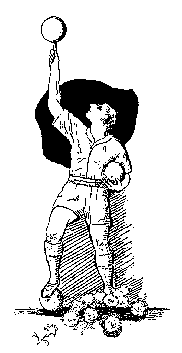 Rastelli's monument.

Unsurpassed master of the laws of equilibrium
Acclaimed in every country in the world
Unsurpassed - and conquered only in death


The final resurrection

19 Dec. 1896 - 13 Dec. 1931
A few weeks before Rastelli's death, a very special show was presented at the Palace Theater in New York City. Some of the best acts of the day were to appear, and the show was to remain at the theater for several weeks. The bill included Three Rhythm Dancers, Eddie Cantor and George Jessel, Janet Reade, George Burns and Gracie Allen, and Benny Meroff and his Orchestra.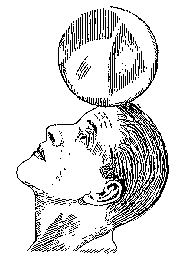 Serge Flash. "The Rubber Ball King".

The reviewer for the Billboard entered the lobby of the theater and noticed that there was also a juggler in the show. A large poster trumpeted - "Serge Flash- The Rubber Ball King". On Saturday afternoon, October 3 , 1931, reviewer M. H. Shapiro reviewed the show and called it, "a supreme stroke of showmanship." Among other words of praise, he also wrote about the juggler: "Serge Flash opened with a demonstration of remarkable juggling ability, using sticks and rubber balls, and revealing an almost superhuman sense of his art. The best of his kind to play the house since Marinelli brought over the well-known Rastelli."

In her fascinating book, "The Palace," (Atheneum) Marian Spitzer mentions this show: "...they (the Cantor/Jessel show) stayed for nine weeks and had only one losing stanza - the eighth - just before Christmas, always a tough time in the theater. But the ninth, and last - the holiday week - they recouped and closed to the sensational gross of $40,000."

Rastelli, in Europe, had been alive when Serge Flash entered New York's Palace on opening day to rehearse his music. Now, on closing night, Rastelli had found eternal rest. Grieved by the news of Rastelli and the closing of the Palace show, Serge Flash collected his sheet music and packed away his props. They consisted of a few Austrian-made balls and his sticks, which he securely strapped to the bottom of his case. Then he slowly walked out of the stage door and down the long dark alley that leads into Forty-seventh Street. This was on the night of New Year's Eve, 1931. A memorable show had ended on Broadway, and a memorable life had ended in Bergamo - just eighteen days earlier.
OTHER STYLES FLOURISH
This is the pose Stan Kavanaugh autographed to the author when they met in Fort Sill in 1942. After a photo by Aldene, New York.

Despite the popularity of stick-and-ball, other styles of juggling were also flourishing. Indian clubs were extremely popular. The outstanding club-passing acts were the Three Swifts, the Five Elgins and the Juggling Jewels. The outstanding single doing clubs was Bobby May, and the most comical of the club jugglers were Stan Kavanaugh and Bob DuPont (two separate acts). The best foot juggler, doing his entire act while lying on his back, was James Evans. The best hoop-rolling act - Howard Nichols. Other artists of that period were: Charles Carrer, Davey, Gaston Palmer, Ivanoff, Piletto, Felovis, the Littlejohns, Moran and Wiser. Let us read what the reviewers for the Billboard had to say about some of these artists:

"Charles Carrer, once billed as the Swiss juggler, puts over his familiar routine without misses or obvious stalling. The object juggler displays some interesting sight stuff and works with enviable finesse. His parting trick drew a hand that warranted the encore." "Piletto, Italian juggler, imported by the nautical agent Jack Curtis, did not get the best break possible by being shoved on cold in the opening spot on his debut. The lad, who does uncanny things with pins, [sic] balls and disks, wiped away the effect of a comparatively weak opening by a thrilling display of juggling skill and showmanship as his routine unwound itself. In the class of Flash, Felovis and Rastelli, this Piletto looks good enough to remain here indefinitely. Took bows to a hand that convinced one of his worth."

"The Five Elgins offer a strong juggling novelty, one that has the stuff for giving a bill a snappy launching or the assurance of making the closing frame punchy. Three males and two of the opposite sex work equally at juggling, and all are experts. Besides being capable, they engage in stunts that are tricky and the kind that pulls applause. Act has speed galore, with a lot done in the six-minute running time. Opened the six-act show here and walloped."

"Bobby May, with Joe Holmes, jazzed up the deuce spot with his unending assortment of tricks. The versatile youth offers everything from manipulative comedy to musical bits, both on his head and feet. His teammate contributed knockabout socks for good measure. Primarily, May is a first rate juggler, yet he is equally clever in all his efforts."
---
Footnotes
Photoplay - January 1929, p.47 and reprinted in Kevin Brownlow's The Parade's Gone By p.573, Alfred A. Knopf, Inc. New York.
---
[Index] [Previous] [Next] Juggling - its history and greatest performers / Juggling Information Service / jis@juggling.org Text and illustrations © 1984 Francisco Alvarez
HTML © 1997 Juggling Information Service. All Rights Reserved.