Juggling - its history and greatest performers by Francisco Alvarez
PART 4: Le Jongleur de Notre Dame and More History
---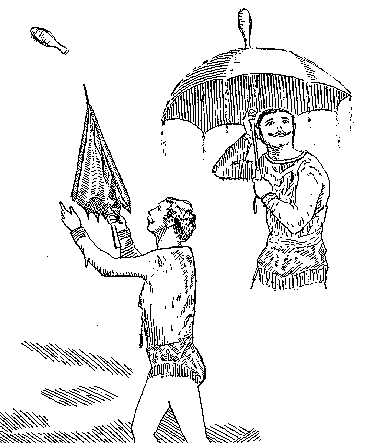 The lemonade bottle and umbrella trick is said to have been invented by Cinquevalli while on a picnic.

In 1892, French writer Anatole France (1844-1924), in his Le'Etui de Nacre, wrote a story about a juggler. It is believed that the story did not originate with him - that it was an old traditional French tale. But Anatole France's version is the one most respected. "The Juggler of Our Lady" or "Our Lady's Juggler" is set in a French abbey during the fourteenth century. Although the story is fictional, a monastic order of Benedictines actually founded an abbey in Cluny, a town in east central France where this admirable legend takes place. This abbey existed from 910 until its closing in 1790. It's the story of a humble juggler named Barnaby, who in time of need is sheltered by monks. The members of this monastic order make contributions to demonstrate their religious devotion. Reverential offerings are made by the painter, musician, poet. Barnaby decides to make the only contribution he can by juggling before an image of the Virgin, who by a miracle stoops to wipe his brow. The story has great dramatic impact. At the very moment the "blasphemous" juggler is about to be bundled off in disgrace from the chapel, the Blessed Virgin appears.

The tale has been translated into many foreign languages and it's been the subject of plays and motion pictures. It is also the subject of an opera by Jules Massenet (1842-1912). The opera is seldom performed today, but its American premiere at the Manhattan Opera House on Friday, November 27, 1908, was very successful. Mary Garden played the part of the boy juggler, whose name by this time had been changed to Jean. Critics of the day called Mary Garden's interpretation of the juggler "superlative." About the music, critics declared that even though there were few moments of inspired writing in the score, Massenet's music was at all times, melodious and charming; and that it was a refreshing, delightful, heartwarming work. Old photographs of Mary Garden as she appeared in the opera show her holding three balls in one hand and a hat in the other. Oscar Hammerstein was responsible for the production of this and other operas, but he had other theatrical interests as well. His Victoria Theater and Music Hall was one of the most colorful vaudeville houses of that period. It was managed by Oscar's son Willie, and had consistently shown a profit. Curiously, it was this profit that had made the "juggler's opera" possible. The Victoria played real jugglers on its programs; in fact, one such program, dated Monday, February 10 (possibly 1908), listed W. C. Fields as "Unique Comedy Juggler - First time at this theater."

While Mary Garden was magnificently pretending to be a juggler in song and mime, real jugglers were at work. Bedini and Arthur were playing the best of vaudeville and looking for an assistant. They eventually found one in the person of a young comic who later became famous as Eddie Cantor. Ironically, Jean Bedini and Roy Arthur are best remembered for their assistant, not for their fine juggling act. Kara, who was now 41 years old, was at the Wintergarten in Berlin (December, l908).

The first motion pictures, which were then known as nickelodeons, could now be found all over the country. By 1909, Mary Pickford and Owen Moore were appearing in In a Lonely Villa. The Great Train Robbery had been made in 1903, and as early as April 20, 1896, Koster and Bial's Music Hall had presented Edison's Vitascope pictures, which were presented as "acts," together with variety acts. Cinquevalli was one of the most famous jugglers to work this well-known theatrical landmark in New York City.
"PAUL CINQUEVALLI, Prince of Jugglers," was the caption that appeared with this pose in an article in the London Tid-Bits of Dec. 7, 1912. Cinquevalli invited the reported to his home in Brixton for the interview, which appears in part on the pages of this book which are dedicated to Cinquevalli.

In 1909, Cinquevalli was still highly publicized. Variety had this to say about him: "Cinquevalli Re-Marries - Sydney, Australia, April 10, 1909. Paul Cinquevalli, the juggler, was married last week to Dora Knowles, a recent arrival from England. The ceremony took place at 'Wendover,' Darling Point. Subsequently the couple left for the Rickards New Zealand tour, where the juggler tops the bill. Cinquevalli had been a widower for about 18 months prior to his latest matrimonial venture." Five months later this appeared in the September 25 issue of Variety: "Cinquevalli's Assistant in Asylum - Sydney, Australia, August 9. Walter Burford, Cinquevalli's assistant, reached the limit last week, when a violent epileptic seizure caused his confinement in a private hospital. Previously the unfortunate fellow had made a fierce onslaught upon Cinquevalli; and was with great difficulty secured. Burford and the juggler were almost inseparable. Their partnership, (if such it may be called) having extended over a period of twelve years. Harry Lee, a Melbourne boy, filled the vacancy, and the act is again working smoothly."
THE GREAT EVERHART
An early-century juggler was William Everhart, who was famous as a hoop-roller and probably the best in that field. When playing in England, Everhart was commanded to appear before Edward VII and Queen Alexandra at Buckingham Palace. Dr. Henry R. Evans, in the Linking Ring magazine some years ago, states that he had seen Everhart perform, and describes the act in these words:
Everhart would send seven hoops to the other side of the stage, one by one, and they would return to him, roll around him, pass between his legs, crawl down his back and then down his extended arms to be caught and sent out again, twisting, spinning, and bounding. He used, if I remember correctly, the wooden rings of bicycle wheels instead of the conventional hoops, once propelled along the streets of our cities and towns by little children in the seventies and eighties.
Michael Steiner, better known as Kara.

An impressive array of names begins to appear at this time and continues to increase with the years. Today, it is possible to compile a list of professional jugglers numbering into the thousands. To avoid boring the reader with an endless inclusion of names a list appears in the last pages of this book. The most outstanding names, however, should be mentioned at this time. Pierre Amoros, Rapoli, Selma Braatz, Kara, and Salerno were indeed very distinguished, and considering their level of distinction, far too little has been written about these artists. Not to mention Cinquevalli's boyhood which, as far as I know, has been sadly neglected.

Pierre Amoros was a member of the famous Amoros family and, evidently, he juggled nine balls, a trick which prompted Rastelli (in later years) to juggle ten in order to surpass him. Lodo Leo Rapoli was a great manipulator of small balls; he performed such complex tricks with six and seven balls, that most jugglers found them impossible to do with four and five. I have little information on Selma Braatz. But judging from her publicity photos and reputation, we can safely assume that she was an outstanding juggler. Dennis Soldati informs me that several articles on Selma Braatz have appeared in back issues of the IJA's Newsletter. Regarding Kara and Salerno, it seems that Kara was the better technician, Salerno the better showman. This judgment is based on conversations I've had with Arthur Ward, who has seen both men perform.

Apparently neither man made much use of the heavy-prop style, which was losing popularity. There is some evidence, however, that small pieces of furniture were used in their acts, which seems to indicate that the "heavy" inclination had not died out completely. Essentially, though, these men were object jugglers who displayed a great deal of polish, and were the founders of a style to be known as "gentlemen jugglers." Note that the props used by these men were highly untheatrical, since for the most part they consisted of objects found in the kitchens and parlors of every home. Hence - the "salon" juggler.

The beauty of the parlor trick was that the viewer felt as if he could go home to his own living room and "play it on his piano." By using his own table, lamp, and candlesticks, perhaps he could perform with the same dexterity he had witnessed on the vaudeville stage the night before.
Kara and assistant during a breathtaking moment. Sagemüller collection.

Kara is known to have thrown an egg high into the air and to catch it on a plate as it came down, a trick which Cinquevalli has mentioned. Kara went further - he did a whole routine with egg, egg-cup, plate, and small fruit, all beautifully incorporated. No comedy possibility was ever overlooked, like allowing a falling egg to break on the assistant's head, as if unintentionally.

The billiard cue with ball balanced on its tip was often seen during this period, but the balance was usually faked. Kara, however, used this prop with imagination and somewhat more realistically. The cue was juggled by Kara with two other objects found in the pool room and a bottle as well. The coin tossed from toe to eye and caught as a monocle, and the pulling of the tablecloth from under the dishes were typical "gentlemen" tricks of the period. Kara did both. Another trick of Kara's was the frame (or rack) which he balanced on his forehead. The top of the frame had an opening into which balls could be thrown. The inside of the frame, which was visible, had a series of conductors or slots allowing the balls to roll down in delayed zigzag fashion so that many balls could be "juggled'' at the same time. Though unusual, this trick can hardly be called a fake, since it was extremely clever and made considerable demands on the skill of the performer.

And reminiscent of Cinquevalli's turnip trick, Kara juggled three objects - an orange, knife, and fork. The trick ended when Kara sliced the orange in two in mid-air using the knife, and then continued to juggle the four objects without a stop. Balancing a hat rack on his chin, Kara juggled three hats, and by a series of tosses, each hat went to a different prong on the rack. A head-to-head balance with his assistant yielded similar results with three hats thrown - one to each foot and the last one to the assistant's posterior.
Salerno in a rare but excellent pose. Apparently, he preferred to pose standing next to his mechanical inventions, rather than doing his juggling tricks. Author's collection.

Salerno used the then-popular hat, cane and glove routine, but he did it with a closed umbrella instead of the cane. Later the umbrella was opened for other tricks. After doing the usual tossing with these props, Salerno introduced other tricks, such as tossing a cigar into his mouth and cigar case to the pocket of his coat. The frame which Salerno balanced on his forehead was different from Kara's. In Salerno's case, it was a picture frame balanced on one corner; then it was allowed to slide to other corner. The picture in the frame was quite interesting. It portrayed a couple sleeping in bed and covered with sheet and blanket. When the balanced frame was slid to the other corner, the covers rolled down and the sleeping couple in their pajamas was exposed, bringing on hearty laughter from the audience.

Another beautiful routine of Salerno's: - His assistant brings him a letter. Salerno opens the envelope by throwing it up in the air and cutting its end with scissors. After answering the letter, he throws it up and catches in the envelope. The penholder is thrown around his back to be caught in back of his ear, and as his assistant walks away to deliver the letter, Salerno throws the pen at the assistant's backside, where it sticks. But probably the most memorable routine of Salerno's was his juggling of three torches. They were shaped like lamps and changed colors in the middle of the routine, turning red, yellow, and green. Continuous back-crosses on a dark stage ended the routine. For his closing trick, Salerno stood on the table and clipped a wine bottle between his feet. In his mouth he held a wine glass. Then he did a handstand on the table, and with the bottle over his head between his feet, he shook out the cork and poured wine into the mouth-held glass. The bottle was placed on his head with his feet and he resumed his upright position.

The information on the acts of Kara and Salerno are paraphrased from the writings of Horace Morton Lorette, and from my conversations with Max Baresh and Arthur Ward. Mr. Lorette's information is used here with permission from the International Jugglers' Association.

In examining other early-century artists, we cannot overlook Harrigan. Many of the tramp jugglers of that period, including W. C. Fields, are said to have been inspired by Harrigan's outstanding talents. An English publication, The Variety Theatre of August 18, 1905, made the following comments:
Harrigan, the tramp juggler, now appearing at the Palace, Shaftesbury Avenue, claims to be the originator of that character on the stage, and the first to create mirth with a lot of cigar boxes.

He was also the first American tramp juggler to appear before an English audience. This was in 1895, when he appeared at the Alhambra and Palace, making a terrific hit at both houses. He returned to the Palace in 1899, repeating the success made on his premier visit. Harrigan, besides being at the top of the tramp jugglers, is considered to be one of the best monologists and parody singers in America. His jokes and parodies are original, a fact which makes a great demand for his services both off and on stage.
In the years that followed, Saturday night at the movies wasn't the name of a television program. It was a living, exciting, unforgettable experience. Pearl White, Charlie Chaplin, and Douglas Fairbanks brought cliff-hanging suspense and witty pantomime to an adoring public. But that was only part of the entertainment package. There was more to come - vaudeville. For the same price of admission the darkened movie theater suddenly came alive with lights, musicians, and performers who'd walk onstage in an aura of unbelievable glamour, to dance, to sing, to juggle. There were acts to please all tastes, and those who understood juggling looked forward to next week's program, always with specific names in mind. It was Jean Bedini this week, the Mowatts next week, perhaps Gus Kiralfo soon, and - who knows - maybe even Kara or Cinquevalli. Juggler Hank Adams played Dansville, N. Y. the week of June 30 to July 9, 1913, but he was one of many. In the big cities, in the small towns, there was always a vaudeville show, and quite often a juggler. Fortunately, silent movies and vaudeville were compatible. There was room for all.
The "gentleman juggler" was now firmly established and performers were elegantly dressed in formal evening attire. Tricks with hat, cane and gloves were popular. A cane would balance on the performer's forehead and a top hat was thrown to be caught on the top end of the cane. Now the cane was allowed to slide down the back so that the hat would fall on the head; and the cane, by some magic that only jugglers understand, became wedged between the hat and the performer's head, hanging out like a pigtail. To add humor to the skill, the performer would say he had learned the trick from the great Chinese juggler On Too Long. (NOTE - This routine and patter was actually done by the Australian Davey, but much later in the century.)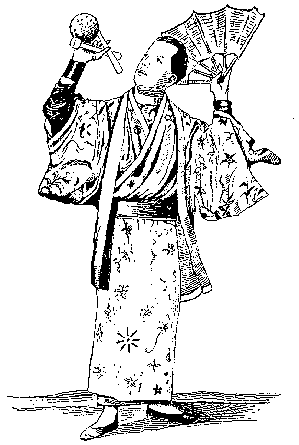 Takashima, the man who inspired Rastelli.

This type of juggler delighted audiences and everyone seemed to approve; every one, that is, but the circus performer. Dressing in tails was an impediment the circus artist did not appreciate. His work demanded a different approach. In the European circus the Japanese influence had been considerable. Europeans began to imitate the style. Dressed in a plain silk domino or the shorts of a gymnast, performers did tricks with little sticks and large balls. But what magic these sticks possessed! They could be turned with uncanny speed or floated through the air with ease and grace. Following the sticks, the balls were manipulated in every imaginable way, sometimes alone, sometimes in interesting combinations with sticks. A stick held in the mouth increased the possibilities, making a number of moves and "breaks" available. This style of juggling, though difficult, was so flexible and challenging that it was soon adopted by European circus jugglers, young Enrico Rastelli being the most extraordinary example. The Japanese juggler who had inspired Rastelli was Takashima. Rastelli had great admiration for this artist, and it is said that years later, when asked to name the greatest juggler in the world, Rastelli had replied without hesitation, "Takashima." (As told to me by Carl Lorenz).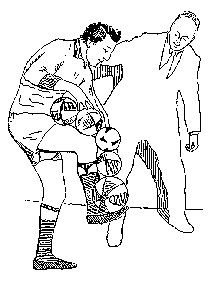 Rastelli studies under the watchful eye of his father.

Although Rastelli's father and grandfather had both been jugglers, it seems they preferred trapeze work, and Enrico was encouraged to become an aerialist . But the boy was to emphatically veer toward a juggling career, and practiced with such devotion and fervor, that he was allowed to continue. He started to juggle at age eight and when he was eleven he appeared in public. When Rastelli was sixteen years old (in 1912), he traveled to Russia to fulfill theatrical obligations and was not able to escape from that country until 1922. (Kober gives this date, but other historians believe Rastelli left Russia sometime between 1917 and 1919.) We do know that in the midst of the turmoil he found refuge in circuses and theaters where he practiced without interruption. Word of Rastelli's prodigious feats soon began to reach the continent.
---
[Index] [Previous] [Next] Juggling - its history and greatest performers / Juggling Information Service / jis@juggling.org Text and illustrations © 1984 Francisco Alvarez
HTML © 1997 Juggling Information Service. All Rights Reserved.